Below is a snippet of our sudden announcement of migrating all our servers to a different datacentre: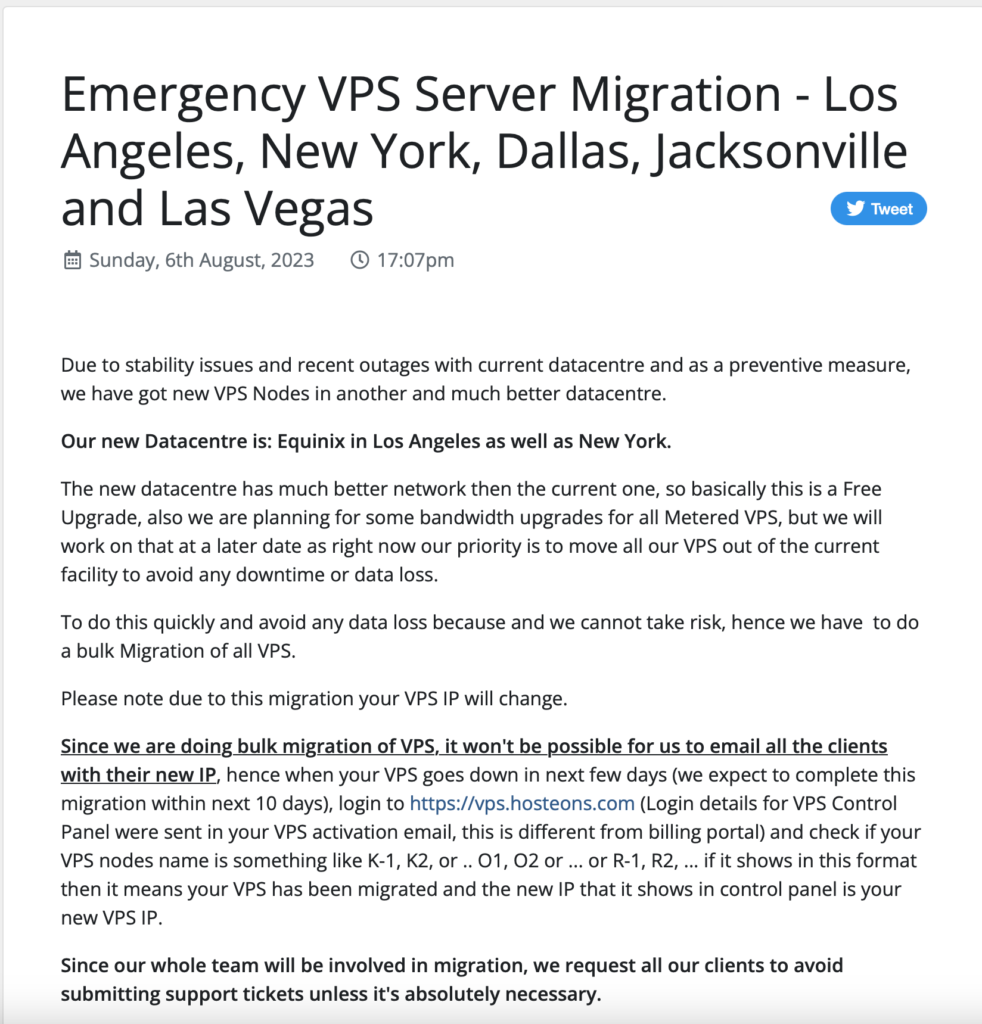 We made this announcement on 6th of August, though we started planning for it in July itself, but it was just a hunch hence we could not make it public as we have yet to find a reliable provider, arrange for 11000+ IP, arrange for close 100 Servers, find locations that are suitable for our clients etc…
But what made us take this decision as we have been using DEDIPATH services for over 5 years without any trouble ?
There were few warning signs:
Their CTO Left the company
Support tickets were delayed a lot
Nobody from management was approachable
Then I think in July end two of their facilities went offline for over 3 hours – NJ and LA, this was the biggest warning sign, but then after asking repeatedly they finally sent RFO
This RFO was the final NAIL in the COFFIN and forced us to take this decision of migrating out of Dedipath. This RFO said the reason behind the outage was routing issue, but how can two different locations have routing issue at the same time ? I tried to inquire a lot about it to know the actual reason, but everybody at DP was behind NDA hence could not utter a word, but this made us decide to finally migrate out.
This sudden Emergency Migration was not appreciated by all clients, but we even could not tell the clients that we are doing it on the basis of a hunch that things are not alright at DP hence we had to migrate out, but most of the clients did not complained but still I know it's a lot of trouble for clients to change their IP in the web server, mail server, DNS Servers, proxy, vpn or for whatever services they were using their VPS.
We appreciate patience shown by all clients during this migration, but whatever we did was in the best interest of our clients, their data and also for survival of Hosteons.
Usually providers physically move servers to another Datacentre as it saves a lot of costs, though it causes downtime but still it's the most economical way to do migration especially if you own the servers/hardware, but in our case even this was not possible and also we did not wanted to cause hours of downtime and sometimes servers do break during transport that could again cause more problems and data loss.
If we move the servers physically it has many risks:
Server Damage During Transportation
Hours of Downtime as it's takes lots of time if you have to UNRACK 100 servers, then transport them, then again bring them online in the new datacentre with new IP, new network configuration
Not only this how do we change IP of 9000 VPS all at once ? It could take days before we do this, so this just means downtime of days or even weeks
Moreover there were rumours in Forums that Remote Hands is at HOLD in DP, as the Datacentre "EVOCATIVE" is not doing it, I won't get in details what exactly is the problem, so we could not expect that we will be actually provided access to our servers
So this option was OFF the TABLE
So how exactly did we migrate 9288 VPS Safely ?
We decided that we will first get the following:
Our own ASN – If we use ASN of our Datacentre it causes lots of problems like if the Datacentre has abusive users it even affects our IP Reputation. So we got our own ASN before migration – AS142036
Our own IP – We have some of our own IP Blocks from APNIC, we used them along with, we directly did contract with IP Vendors and got IP on long term contract, so that we don't need to change IP every now and then as we had to do when IP are provided by Datacentre, because if Datacentre wants they change or pull back their IP blocks anytime they want, so this time we got IP Directly from IP Vendors and used our own IP
We got new servers, but new server hardware delivery takes time it is not instant, so this took almost 10 days and even in these 10 days we did not got all the servers, even some servers failed hardware diagnostics, we had to get them replaced, rack etc… it was a period of sleepless nights that just finished today earlier with our FINAL Server migration without any DATA LOSS to any client.
It was not easy to apply and get ASN, get new IP, arrange for new servers that too in locations that are similar to what we currently have and above all, all these things require a lot of CASH.
But we have a solid business plan and we keep our business profitable unlike many low end providers who just keep discounting their prices to get sales and ultimately end up shutting down, but due to our SOLID BUSINESS PLAN and over 2 decades of experience in HOSTING INDUSTRY, we were able to pull through this tough phase.
But AGAIN YOU MUST BE THINKING WAS THIS EVEN WORTH IT ?
YES ABSOLUTELY, JUST READ THIS ANNOUNCEMENT BY DEDIPATH: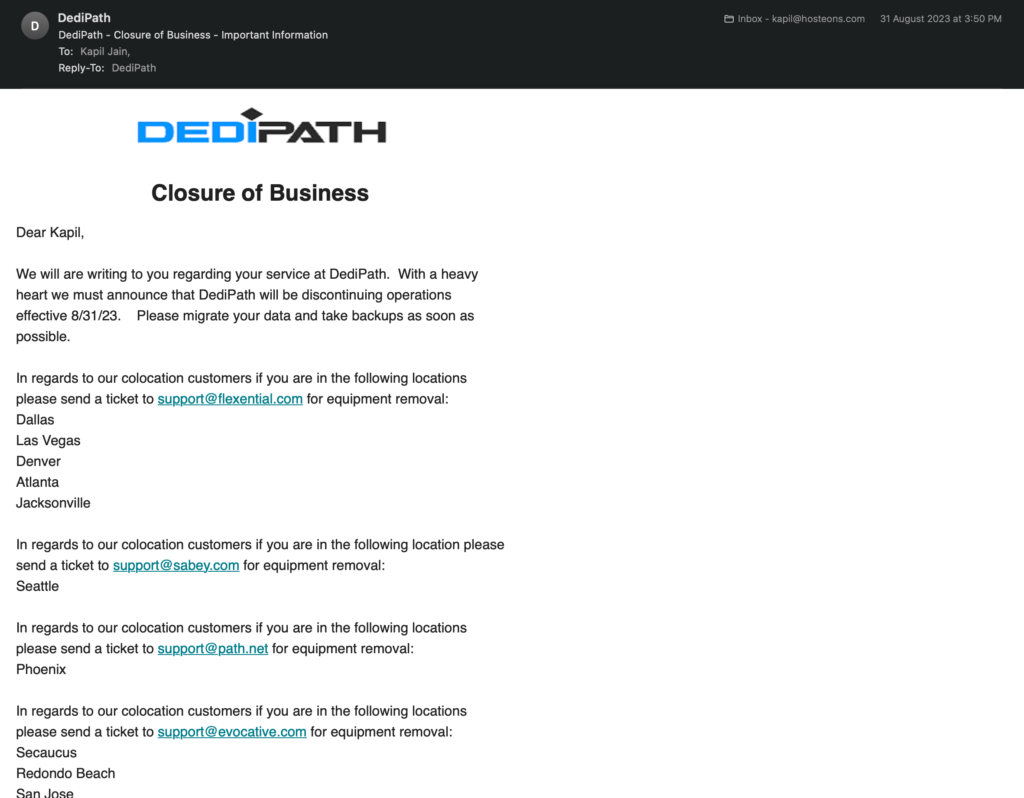 This is just a partial announcement but they did shutdown with less then 24 hours notice, and if we had not migrated out in time, then we would have lost data of almost all clients by now as it was not possible to arrange for 100 Servers in such a short period and also migrate data of 9000+ VPS within 24 hours, as I know it take us over 20 days to migrate out data of 9000 VPS
The best part is our clients had close to ZERO DOWNTIME, the reason being we did a live migration of VPS, just the IP was changed, so it all depends how quickly they start using the new IP
So this is how we DODGED the DEATH BALL just on the basis of a hunch and over 2 decades of experience in HOSTING INDUSTRY